SA Migration International was created out of the need for a specialist organization to assist people wishing to immigrate, volunteer, work, bring family, study or open businesses in South Africa.

We will guide you through the entire process to require the appropriate permit. Once we confirm that you will qualify for the visa, we will guarantee you a successful application. This is normally done in the first consultation - which is for free.
More details
Skilled foreign migrants could soon be granted immediate permanent residence.

This is according to Busi Mkhwebane-Tshehla, acting chief director of refugee affairs at the Department of Home Affairs, who was speaking during the launch of the Johannesburg Migration Advisory Committee (JMAC) yesterday.
Full Story
About the Expat Explorer Survey
Commissioned by HSBC Bank International, Expat Explorer is the largest ever global survey of expats. Now in its second year, the survey has questioned more than 3,100 expats on the opportunities and challenges they face living away from home. The survey provides an insight into how expat life differs from country to country, continent to continent.

South Africa has been voted the 6th best country to live in scored accross all categories, 4th country for easy integration - before the US (9th), UK (20th).

Expat Experience Expat Experience is the second of three reports to be produced from the Expat Explorer research. The report focuses on expatsí experiences of integrating into local society, as well as their quality of life in comparison to where they used to live. A league table has been compiled using a substantial set of criteria (23 in total) to reveal which locations expats voted as the places with the best quality of life. Expats rated accommodation, food, entertainment, transport, clothing, household goods, utilities, healthcare, education/childcare, working hours, family life, social life, commute to work, health and hobbies. In addition, they also rated the relative ease in which they were able to do the following in their new country of residence:

Organising schools for their children
Setting up finances; healthcare; utilities
Finding somewhere to live
Learning the local language
Making expat friends; making local friends;
whether or not they joined local community groups
Full Story
FRANNY RABKIN 26.10.2009
ZIMBABWEAN schoolteacher Zwelani Ncube has won another victory in his two- year court battle for a work permit, with the Supreme Court of Appeal dismissing an application by the Department of Home Affairs for leave to appeal against a high court order on the permit.
The decision could pave the way for similar claims in the future, his attorney, Sarah Sephton of the Legal Resources Centre, said. The appeal court ordered the department to issue a work permit to Ncube and to pay him compensation.
Full Story
(click on pic for full size)
The total number of travellers who visited South Africa through all its ports of entry during July 2009 was up 5.8 percent year-on-year (y/y) to 2.442 million from the 2.309 million recorded in July 2008, according to Statistics South Africa (Stats SA) data released on Monday.

A month-on-month increase of 21.9 percent was recorded from June.
Full Story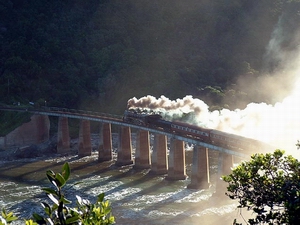 Travel along the Garden Route on board the famous Outeniqua Choo-Tjoe from George to Knysna. Take the Knysna Ferry across to the Featherbed Nature Reserve where you will enjoy a 12 dish buffet. After lunch you will be guided to the look out point where specialist guides will regale you with tales of Knysna. Your adventure ends with a scenic drive back to Wilderness.
Please note the Outeniqua Steam train runs from George to Wilderness and no longer George to Knysna - this may impact the direction of the day tour.
Full Story
SA Migration International


Tel.: +27 (0)21 465 0333
Fax: +27 (0)21 465 8857
Email: enquiries@sami.co.za

SA Migration


Tel.: +27 (0)21 465 0333
Fax: +27 (0)21 465 8857
Email: enquiries@sami.co.za


Table of Contents

1. About SA Migration

2. Foreigners with skills soon immediate permanent residence

3. Expat Explorer Survey 2009
- Expat Experience

4. Home Affairs loses teacher
permit case again

5. July tourist arrivals
up 5.8 percent year on year

6. Travel the famous Outeniqua
Choo-Tjoe Steam Train from
George to Knysna


Previous SAMI Newsletters
01/2009 in HTML or PDF
02/2009 in HTML or PDF
For the PDF-Versions
you need
Adobe Reader:
Contact us:

Tel.: +27 (0)21 465 0333
Fax: +27 (0)21 465 8857
Email: enquiries@sami.co.za

56 Barrack Street
Home Affairs Building
Cape Town, ZA-8000
South Africa

PO Box 3733,
Cape Town, ZA-8000